As the name implies, FUNdraisers are a fun way to raise revenue for our not-for-profit organisation. With the amount of projects and opportunities for artists we aim to provide for our community, we need to be constantly aware of ways to raise much needed funds.
We have decided that this should be a fun process for everyone wherever possible.
Our first FUNdraiser was a Vampire movie double bill at the Icon Cinema in Toowoomba. Timed to coincide with Halloween 2006, guests turned up in scary vampire & goth inspired costumes, the cinema was decked out in dripping candles and cobwebs and the food included Scream Caramel, Choc Horror Cake, Poltergeist's Delight & Blood & Bone Brownies. 'Thing' (or a thing that looked like "Thing") from the Addams Family made an appearance & kindly drew the winning tickets in our raffle and door prizes.
The movies shown were 'Nosferatu – a Symphony of Terror' – a classic silent film from 1922 directed by FW Murneau, and the 2001 'Shadow of the Vampire' starring John Malkovich and Willem Defoe – a mockumentary of the previous film.
Mr Ron West, suitable dressed as an elegant vampire, from the Majestic Cinema in Pomona Queensland kindly donated his talents playing the entire score of the 1922 movie on the organ.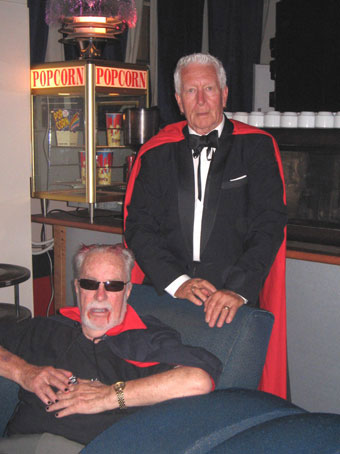 2 distinguished vampires – Frank Bloxham (seated) who drove up from Sydney for the even, and Mr Ron West (standing) – proprietor of the Pomona Cinema.
Another fun activity was a trip to see the Kransky Sisters perform in Esk. A bus was hired for a member's trip to see this renown group and their off-beat musical show, performed on Tuba, Musical Saw, duelling tambourines, kitchen pot and toilet brush.